Spanish and Spanish for the Professions
The Spanish minor and the Spanish for the Professions certificate are each an 18-credit series of courses designed to develop your communication skills and cultural knowledge to more expertly serve the needs of Spanish speakers in the U.S. and abroad. 
Combining professionally focused courses and practical experiences, you will prepare for employment in positions that require advanced proficiency in Spanish and an in-depth understanding of U.S.-Latinx and Latin American cultures.
Whether your field is social work, health care, criminology, journalism, business, education, law or another field, this certificate or minor can help you to engage in the social challenges of your profession and in civil discourse. This program will open the doors for you to integrate your professional knowledge with different cultural perspectives in a way that is purpose-driven, innovative, and focused on problem-solving.

Whether your interests are in health, food, culture, racial discourses, justice, government administration, the arts, and more, you'll develop abilities to engage diverse people, cultivate cultural understanding, promote civil discourse, and build healthy social networks.
Our faculty will help you to develop career readiness by:
empowering you to use knowledge responsibly, innovatively, and fairly.
inspiring you to develop a work ethic that respects different cultural values.
challenging you to be innovative and socially inclusive.
engaging you in the use of new technologies.
preparing you to work in teams and collaboratively.
enhancing your critical thinking and problem-solving skills.
developing your Spanish oral and written communication skills.
training you to be an effective and fair-minded leader.
Special Learning Opportunities for Healthcare Professionals
The Spanish faculty in the College of Integrative Sciences and Arts at ASU's Downtown Phoenix campus also offer three levels of Spanish for Healthcare Professionals: SPA 118, 218, and 318.* These courses focus heavily on acquiring and understanding the appropriate use of grammar, conversational skills, and medical vocabulary in Spanish. They are in high demand by nursing and nutrition students as well as by professionals working in a healthcare field.
*Notice that SPA 118 and SPA 218 do not form part of the professional Minor/Certificate.
Beyond the Classroom
While preparing you to use your language skills in the career of your choice, the Spanish for the Professions certificate and the Spanish minor also:
connect you with Spanish speakers in your community.
coordinate an Internship Program so you can expand your work experience.
introduce you to professionals and guest speakers who visit your classrooms.
prepare you for public speaking through poster presentations and expos of your own work.
integrate community outreach events into your courses.
host events that celebrate the Latinx culture, such as Hispanic Heritage Month events, Día de los muertos celebrations, film screenings, reading sessions for kids, and more.
offer you personalized help to improve your language skills in the Spanish Writing and Tutoring Center. 
Learn by Doing: Pre-arranged Internships
Spend a semester learning and working at a pre-approved community internship venue! You will hone your ability to communicate with Spanish-speaking clients and work effectively in a cross-cultural setting.
Enrollment in SPA 484: Spanish Internship is not limited to students in the Spanish for the Professions certificate or the Spanish minor. Any undergraduate or graduate student can be part of it!
Contact the Spanish for the Professions coordinator to learn more: spanishfortheprofessions@asu.edu
Recent internship venues have included:
Univision Arizona
Virginia G. Piper Medical and Dental Clinic
The Society of St. Vincent de Paul
Judicial Branch of Maricopa County, Law Library Resource Center
Educational Outreach and Student Services, American Dream Academy, ASU
Cronkite Noticias, Arizona PBS
Student Health Outreach for Wellness (SHOW) Community Initiative
CISA Spanish Tutoring & Writing Center / Centro de tutoría y escritura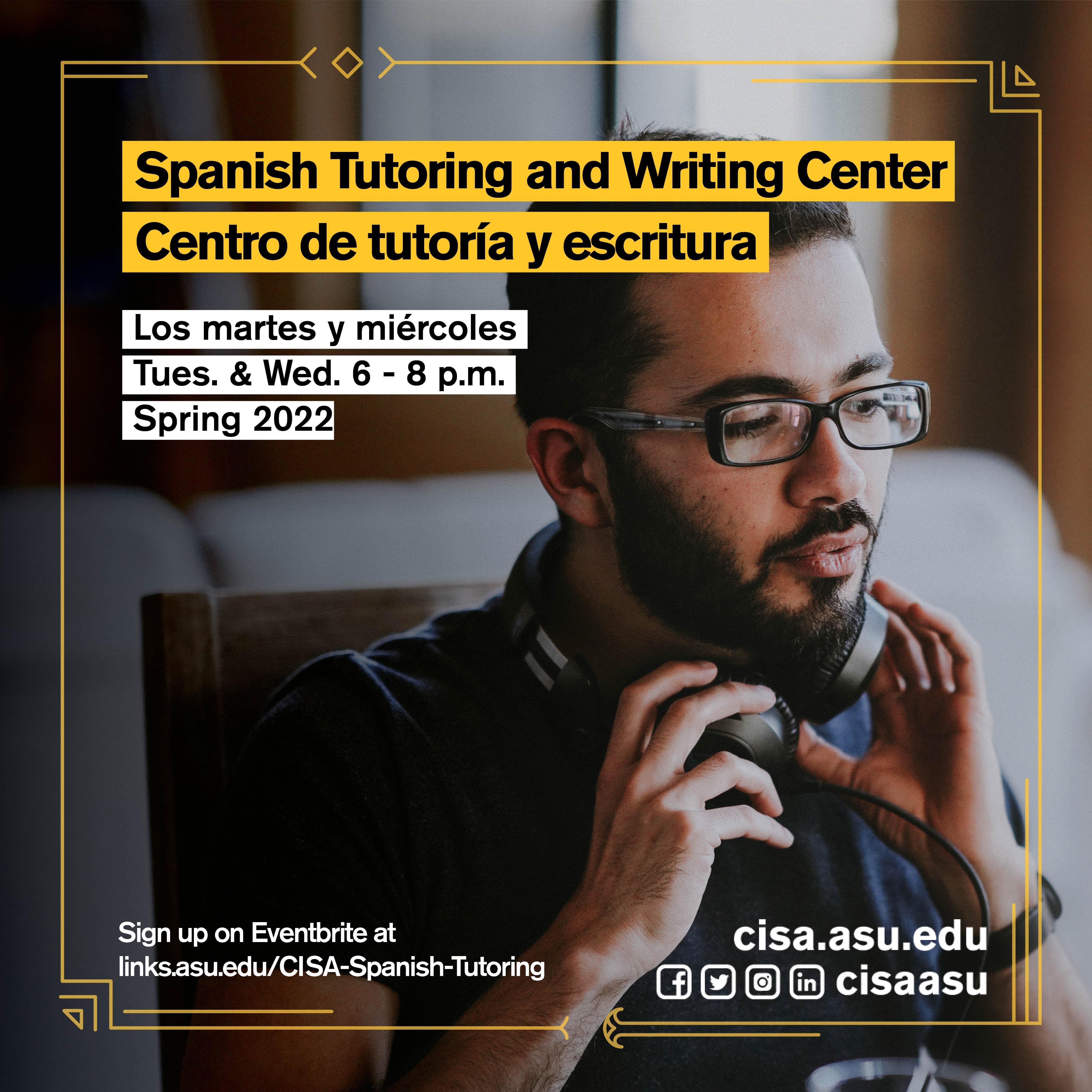 Virtual sessions on Zoom
Spring 2022 hours:
Tuesday and Wednesday evenings
6-8 p.m.
Get speaking or writing help with your Spanish! We welcome undergraduate and graduate students from across all ASU colleges and schools, whether you're working on Spanish courses or working on Spanish translation or academic writing. (Note: Help with writing can be more in-depth on Tuesday evening sessions.) 
Cassie Klapp on why she loved the Spanish minor:
Spanish for the Professions Certificate
Mission
The Spanish for the Professions programs offer you the opportunity to integrate technological tools, community interactions, real work experiences, and cultural and professional knowledge that will lead you to your career success. 
The minor and certificate programs prepare you, as a second language learner or Spanish heritage student, to improve and apply language skills in your professional field. You will discover cultural perspectives and communication methods of public value. These tools will help you to assume fundamental responsibility for the economic, social, cultural, and overall health of your community.
If you are not an ASU student
Contact us
Some Career Possibilities
Business:
International Relations Consultant
Foreign Exchange Trader
Publishing Specialist
Foreign Correspondent
Proofreader
Importer/Exporter
Translator/Interpreter
International Account Manager
International Banking Officer
Bilingual customer support
Government:
National Security Agent
Immigration Officer
Court Interpreter
Cultural Attaché
UNESCO Official
Translator/Interpreter
FBI Agent
Foreign Diplomat Missionary
Foreign Service Officer
Culture, Education and Tourism:
Cultural Events Coordinator
Travel Agent
Translator/Interpreter
Escort/Interpreter/Guide
Bilingual Educator
College Professor
Check out some of the current job openings for Bilingual Spanish/English professionals at online employment sites such as: Indeed.com.
What courses will I take?
The 18 credits of courses are divided between required and elective classes, to give you the flexibility to focus the minor or certificate on your areas of interest.
Prerequisite: SPA 314 or SPA 316 or permission of instructor.

Required Courses (12 credits)
SPA 317 Spanish for the Professions (3)
SPA 404 Spanish in U.S. Professional Communities, C (3)
SPA 405 Latino Cultural Perspectives for the Professions, C, H, G, L (3)
SPA 484 Internship (3)*
Elective Course Options (six credits chosen from the following list; *** denotes Cronkite-recommended courses):
SPA 318 Advanced Spanish for Healthcare Professionals (3)
SPA 403 Spanish Grammar and Stylistics for the Professions (3) *** 
SPA 406 Introduction to Spanish/English Medical Interpretation (3)
SPA 494 Introduction to Spanish Translation for the Professions (3) *** 
SPA 494 Community Interpretation (3)
SPA 494 Latinx/Latin American Film: Ethical Discussions for the Professions H, G, L (3) 
OR
Any SPA 300- or 400-level Spanish course focused on the professions (e.g., business, engineering and urban planning, legal and justice studies, sustainability) (3)
All courses for this minor will require a minimum grade of "C" (2.00) or better to receive credit toward fulfilling minor requirements.
* Prerequisite for SPA 484 Internship: A minimum of 12 credit hours completed in this minor and permission of the instructor.
See the certificate map for the ASU Certificate in Spanish for the Professions or the Spanish minor.
Contact the Spanish for the Professions coordinator at spanishfortheprofessions@asu.edu for more information.
*Notice that SPA 118 and SPA 218 do not form part of the professional Minor/Certificate.